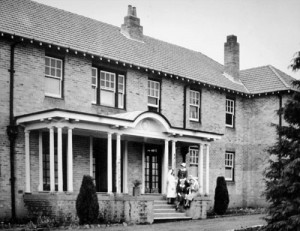 The next meeting of the Orange and District Historical Society will be held on Wednesday 9 April and will focus on the history of Bloomfield Hospital.The history of the hospital goes back well before it was opened in November 1925. As early as November 1892 a deputation of Orange's leading citizens met the Premier, George Dibbs, to discuss the 'strong claims of Orange to be one of the sites for the contemplated lunatic asylums in the colony'.
It took some years for the government to agree to the bid, but in 1898 a 640 acre area of Crown Land excised from the town common at Bloomfield was set aside for the hospital. It was many more years before clearing and building work started, but between 1917 and 1925 the land underwent a remarkable transformation. Dozens of quality brick buildings were erected for patients and staff, including wards, a nurses' home, kitchens and stores, an operating theatre, a chapel and a matron's cottage. The buildings contained some of the most up-to-date features available, including electric light, hot and cold running water, sewerage, solid copper sinks and built-in maple furniture.
Above all, the beautiful grounds were spacious, providing a serene environment for patients to start their journey towards recovery. The hospital was virtually self-sufficient, with carpenters, shoemakers, cooks, gardeners, painters and even a piggery. By 1932 there were 1100 patients and 195 staff with 23 ward buildings and 29 buildings for administration, services and staff accommodation.
During World War Two, with many male staff having joined the armed forces, an extra 343 patients were transferred from Kenmore Hospital in Goulburn, placing a huge strain on the hospital and staff.
Over the years the hospital maintained its high reputation and, while it is now much reduced in size,it continues under the umbrella of Orange Health Service its vital role in treating people with mental illness. The Bloomfield Hospital site in its hey-day – a thriving self-sufficient community when Forest Road was still a dirt track.
There will be a number of speakers at the meeting, including local historian Elisabeth Edwards (author of In Sickness and in Health: How Medicine Helped Shape Orange's History)  on the early history of the hospital; former medical superintendent from 1991 Dr John Hoskin, who worked on the development of the NSW Centre for Rural and Remote Mental Health and also oversaw the building of three new inpatient
units; and Chuck Frame, who worked at Bloomfield from 1970 to 2004, becoming outdoor supervisor, and later administration officer for the regional area. He also worked as executive officer, developing security and safety programs, and was later involved in accreditation of the hospital to national standards. We also look forward to hearing from Julie Rich, who has had a long association with the hospital and maintains a keen interest in its history.Participation is also invited from the audience.
The Society particularly extends a warm welcome to current and former staff of Bloomfield Hospital and Orange Health Service. The meeting will start at 7 for 7.30pm at Orange Senior Citizens Centre (entry from Woolworths car park). Entry costs just $3 for members and $5 for non-members. A light supper will follow the meeting.
For inquiries, contact Liz Edwards on 6362 8647 (email: liz.edwards@orangepeel.it) or Phil Stevenson on 0402 412 188 (email: ibiswines@bigpond.com).