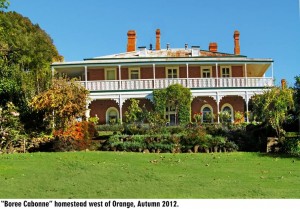 Most people will know of the Boree Cabonne mansion just before the Mitchell monument on the way to Cudal, Manildra and Forbes. Sadly, the house and property are now up for sale after 157 years and six  generations of occupation by the same family. It is to be hoped that the new owners will be able to give it the same tender loving care as has been given over the years by the Smiths, Mac Smiths and McGeochs.
Claims over land in this area by WC Wentworth and Captain Thomas Raine go back to the 1820s, well before Orange was even thought of. Ownership has passed through the hands of the Hood Family  before it came into the possession of John Smith and his descendants from 1847.
Next Wednesday Orange and District Historical Society will hold a History Alive meeting to highlight the wonderful history of the Boree run, and in particular Boree Cabonne. This in so many ways tells the story of land claims and settlement in the Central West, giving us the pattern of land ownership that we now have.
We have three excellent speakers for the night:
Dorothy Balcomb, a retired teacher, author and foundation president and honorary historian for the Canowindra and District Historical Society, will speak on early claimants and landholders of the Central West and the nature  of licences, grants and titles as they changed over the years.
Russell Moor, author and foundation member and currently president of the Marsden History Centre, will speak on the role of John Smith and Boree Cabonne in the spread of bloodlines from the Reverend Samuel Marsden's original flock, which formed the basis of nearly 80 per cent of the current Merino bloodlines in eastern Australia. He will also speak about the original woolshed, which was one of the first in the district.
Historian and librarian Julie Sykes will speak about the history and features of the Boree Cabonne homestead, with help from the current owners Tina and Andy McGeoch, who because of business commitments, could not be present to give a talk themselves. A wonderful and comprehensive booklet that they themselves prepared will be on sale at $8, with profits being donated to the society.
The meeting will take place at Orange Senior Citizens Centre (entry from Woolworths car park) on Wednesday, February 12 at 7 for 7.30pm. There is a small charge of $3 for members of Orange and District Historical Society and $5 for non-members, to cover costs. Light refreshments will be served.
If you have any inquiries or would like to attend the meeting, please RSVP to Julie Sykes on 6362-1682, or Phil Stevenson on 0402 412 188 (email: ibiswines@bigpond.com)