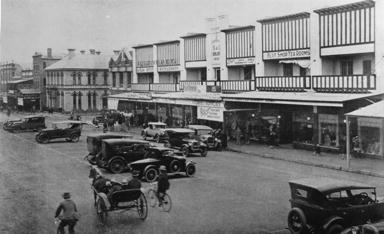 Motor vehicles have become such an integral part of modern life that it is difficult to imagine what Orange was like before they started making an impact on the city.
Motor vehicles, car dealers, mechanics and racing will be the subject of Orange and District Historical Society's next History Alive meeting, to be held at the Senior Citizens Centre on Wednesday, February 8.
With two well-known and knowledgeable guest speakers, Ewen Cameron and Denis Gregory, it is expected that this will be a popular gathering.
One of the first people in Orange to recognise the potential of motor vehicles was Ewen Cameron's grandfather, the redoubtable E C Cameron, who started a car and driver hire business in the town in 1910.
After driving people on business and leisure excursions and operating a garage for a few years, he expanded his business to include motor vehicle sales. The enterprise thrived and became one of the city's major motor vehicle outlets, with a spare parts business and workshop as well. Later, they took over the NRMA agency.
Many members of the Cameron family were involved in the business, including Ewen, who worked his way up, eventually running the business for many years.
Ewen Cameron has a wealth of knowledge about his family's business as well as the Orange motor industry in general.
Denis Gregory has been a motor sport fan ever since he could drive. At the age of 18 he raced at Gnoo Blas and continued competing there until the circuit closed in 1961.
He is passionate about keeping the history of Gnoo Blas alive, pointing out a number of 'firsts' for the track including the first international motor racing meeting in Australia and the first 100 miles per hour lap in Australia. As well, the inaugural Australian touring car championship, which was the forerunner of today's V8 races, started in Orange in 1960.
Members of the society, as well as the general public and anyone involved or interested in the motor vehicle industry and motor racing, are welcome to attend and comments and questions from the audience are welcome.
The meeting will take place at Orange Senior Citizens Centre (entry from Woolworths car park) at 7 for 7.30pm. There is a small charge of $3 for members of Orange and District Historical Society and $5 for non-members, to cover costs. Light refreshments will be served.
If you have any inquiries or would like to attend the meeting, please RSVP to Julie Sykes on 6362-1682, or Phil Stevenson on 0402 412 188 (email: ibiswines@bigpond.com).
Pictured are the various modes of transport in 1927 in Summer Street, Orange – cars, horse and buggy, and bicycle.