Local Studies Librarian in the News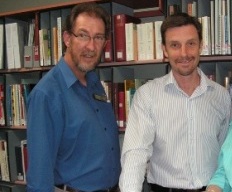 It is not everyday you read about a Local Studies Librarian, but our own Peter Douglass has been profiled in today's Central Western Daily as part of the "My Working Life" series. And a great story and photo it is too! He mentions growing up reading Biggles and starting out as the Bookmobile driver now he's our local history expert working alongside volunteers from the Orange Family History Group who host regular clinics on Fridays to help people do their family research. Check out the story page 9 or better still visit the Library for all your local history information (and we don't think Peter would mind being asked for an autograph!)
Peter is pictured above in the Local Studies Room with Martyn Killion from the Society of Australian Genealogists.
---
[back to top]