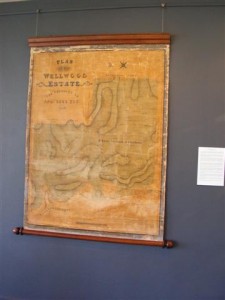 See the Plan of Wellwood Estate gifted to Orange City Council by Charles Sturt University in 2009 now on show at Orange Regional Gallery. Recently the map has undergone extensive conservation works from the generous support of the Orange Regional Arts Foundation.
The map is of immense importance to the history of settlement of Fredericks Valley (just east of Orange along the Mitchell Hwy) and a vital artefact in the colonial history of our district.
Sydney Surveyor A W Meikle produced this detailed hand painted map for Andrew Kerr Esquire in 1842. Andrew Kerr, a free Scottish immigrant, in the colony since 1825, had his grant of 1195 acres surveyed in 1836 (portion 3) and from then on farmed the estate. Kerr called it Wellwood after a group of farms on his native Ayrshire moors where his parents had been impoverished tenant farmers in the late eighteenth century.
By 1842 Kerr had built a homestead and leased the Southwest corner of his land for a small settlement which provided services both to travellers along the highway and to adjoining properties. An entire group of new houses including the Bush Inn, garden and paddocks can be clearly seen on the map.
Discover a fascinating piece of our local history, see the map and portraits of Andrew and his wife Eliza at the Gallery.
And you can purchase your own A3 size colour copy of the Wellwood Plan from Orange City Library for $20. Makes a great gift!