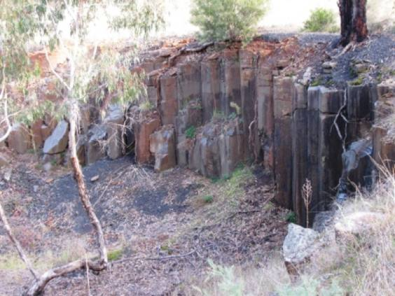 The world abounds with sites of great geological significance, some of which are in danger of destruction with the march of 'progress'. They can be as large as mountain chains or as small as a seam of fossil bearing rock. They are often very fragile. There are many, often not well known, in our district. Pictured is columnar basalt in a quarry on Pinnacle road once used by Canobolas Shire Council.
This Saturday, August 27, Orange Regional Museum Advancement Association (ORMAA) will hold a public meeting with guest speaker Lawrie Sherwin, who has had a long career with the NSW Geological Survey. He is based in Orange and has had significant input to many of our geological reference maps. He has very extensive knowledge of the Orange region.
Lawrie has just returned from a trip to western Europe and has previously visited China where he has looked at sites with great heritage value.
He has spoken to ORMAA before and we know the talk will be most interesting and pertinent to the many geological sites of great interest in the district which deserve attention and preservation.
The meeting will take place at 10.30am in the West Room of the Orange Regional Gallery.
For further information contact Julie Sykes on 6362-1682, email djsykes @tsn.cc or Phil Stevenson 0402 412 188, email ibiswines@bigpond.com